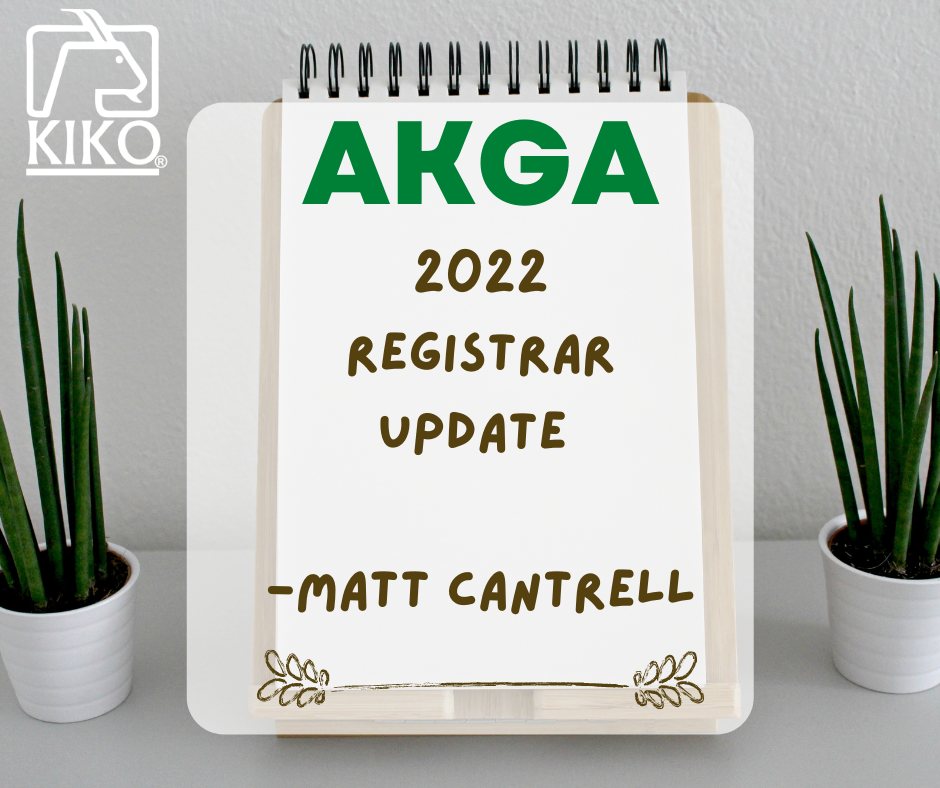 Note from the Registrar: Happy New Year AKGA members!
Despite all the challenges surrounding an ongoing pandemic, the AKGA has had a strong year of registrations and transfers. Delays in DNA testing proved to be a long term issue in 2021, and we appreciate your cooperation and patience through that process. We are hopeful that turn around times with University of California, Davis, will return to normal in 2022 and delays will be minimal. With that said, however, it is something to be mindful of for future registrations, particularly with regards to preparing for organized sales or with new customers who may not be familiar with the process.
With the help of Associated Registry in Wamego, Kansas, we have been able to keep our process streamlined and effective, while continuing to maintain the lowest registration costs in the Kiko world. Here are a couple of items I would like to make note of to all members new and old:
UC Davis DNA reports are important documents that should be retained with any registration certificate. This document provides the results of the
parentage verification performed by DNA and also the file (VGL number)
where that information is stored.
Whenever an AKGA registered goat is sold, always provide this document to the new owners.
The AKGA has successfully transferred (dual registered) many hundreds
of goats from other registries, and we are proud to be able to help our
breeders repatriate goats back into the original Kiko herd book.
When pursuing transfer registrations, it is important to have as much of the documentation as possible, including UC Davis DNA reports. This helps expedite the process.
Should you choose to seek registration of your AKGA goat in another
registry, please provide them with the UC Davis DNA report for your goat
which includes the VGL case number. Some reports prior to 2020 may not
have this number; if that is the case please contact me and I can get one for you. My contact information is listed below.
Start thinking about consignments that you might want to place in the Great American Showcase sale and Annual Conference in Murfreesboro, TN, June 24-25 at the Lane Agri-Park. We look forward to a good conference, good fellowship, and lots of fine Kikos up for auction!
The Board of Directors and I look forward to a prosperous year and continued improvements to our organization.
Matt Cantrell
AKGA Registrar
registrar@kikogoats.com
(620) 755-1335