All new and existing Breeder Members who pay their 2021 membership dues by January 31, 2021, and all existing Lifetime members, will be eligible to claim their choice of one FREE AKGA green "Nothing Performs Like A Kiko!" themed T-shirt or a sharp looking charcoal grey AKGA Logo T-shirt this year! The following adult unisex/mens sizes are available: Small, Medium, Large, XL, 2XL (grey only), 3XL (grey only). Additional T-shirts may also be purchased for $15 when claiming your free shirt.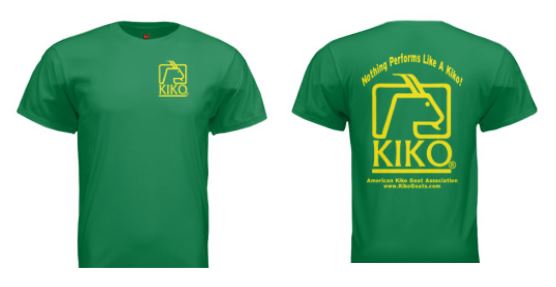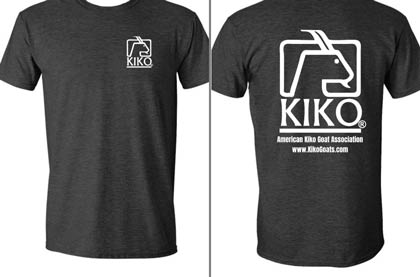 HOW TO CLAIM YOUR FREE SHIRT

If you haven't done so already, you may renew your membership online by using our Online Membership Renewal Form (payment via Paypal or Credit Card required) or by mailing in our printable Fees & Order Form along with your payment (Existing Lifetime members can skip this step). If you are signing up with the AKGA for the first time, please visit our "Why Join the AKGA?" page for information about the AKGA and instructions on how to apply for membership. Once you have completed the renewal or signup process, fill out our Online Free T-Shirt Claim Form and we'll send you your free shirt along with any extras you ordered! Shirts will begin shipping out in mid March.
If you need any assistance with renewing your membership, joining the AKGA, claiming your free t-shirt or simply have a question you'd like to ask us, please feel free to email your friendly AKGA Board of Directors at akgabod@kikogoats.com. We're here to serve you, and we're always happy to help!
Remember, you MUST renew by January 31, 2021 to qualify for your free T-shirt, so make sure you get your renewal taken care of ASAP!
A FEW WORDS ABOUT THE AKGA

The AKGA is a Non-profit, member-run organization.
Original Kiko Registry in the US and sole owner of the original New Zealand Herdbook.
All purebred Kikos in the AKGA registry are parentage verified via DNA at UC Davis VGL.
All AKGA registered goats are universally accepted by all other Kiko registries.
The AKGA is the only registry that offers online goat registration.
The AKGA provides a robust online pedigree search and breeding calculator.
The AKGA has the lowest registration costs of any Kiko registry in the industry.
AKGA Members determine the direction of the association.
All breeder members can participate in committees and run for board director positions.
The AKGA partners with university goat research and trial programs to continue breed improvement.
AKGA members receive free membership in the American Goat Federation (AGF), a $30/yr value.*
AKGA members benefit from increased visibility of goats offered for sale from their farm pages on Goatzz.com as well as additional membership recognition and badges.**
* The American Goat Federation (http://americangoatfederation.org) is the national voice for all goat owners and keeps abreast of regulations and trends of importance to you. All AKGA members who renew or join by January 31, 2021, will become members at no additional cost. The AKGA is the only Supporting Member organization and has representation on the AGF Board.
** Goatzz.com is a free online website that allows you to showcase your goats with photos and information. You can list your foundations goats, goats for sale, and goats of reference. Goats and farms are searchable by breed, location and for sale status. As an AKGA member, you will also have membership tags in AKGA and AGF on your Goatzz page. Finally, the goats listed for sale on the AKGA webpage are automatically posted from Goatzz accounts, receiving national attention.
Thank you for supporting the AKGA!
-AKGA Board of Directors