The American Kiko Goat Association is pleased to announce that we have reduced our goat registration fees, making it even more affordable than ever to register your goats with the industry's original and most universally accepted Kiko registry, the AKGA.
On November 1, 2019, the AKGA Board of Directors voted unanimously to reduce the cost of registration an additional $2.00 per goat. While the AKGA already offered the lowest registration costs among Kiko registries, this reduction further solidifies the AKGA's position as the most affordable option available. "As a non-profit member directed breed association, we seek to keep costs as low as possible while also maintaining the highest level of service and support for our members. This is a win-win for all involved," said Kellen Weissenbach (Vice President), following the vote.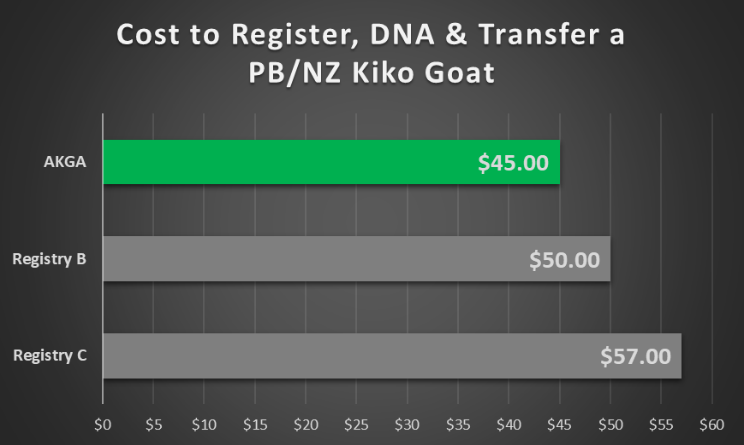 The attached graphic illustrates the total cost (as of 11/5/19) of each of the primary registries when you register, DNA and transfer ownership of a Purebred or New Zealand Kiko goat. As you can see, the AKGA costs $5 to $12 less than the other available registries, per goat!
It is our continuing mission to improve quality of service and reduce costs for the membership of the AKGA, and we hope you will find our recently updated website, streamlined online registration processes and the industry's lowest registration fees to be beneficial to you and your farm.
Best Regards,
AKGA Board of Directors